What's IAIDO IN YOUR HOUSE?
01

Learn traditional Japanese Martial Arts online

IAIDO IN YOUR HOUSE is a new kind of online program for learning Iaido. You will be able to take the professional iaido training without going to Japanese budo studio (dojo)

02

Practice with clothes and
tools as you like

You can use items you can find at home such as folding fans, folding umbrellas, cleanwrap cores, etc. You can wear comfortable clothes that are easy to move around, and you don't need to get specialized items such as sword or Iaido traing wear (dogi). It is easy to get started.

03

Easy for anyone to start

You may have the image of fighting an opponent in Japanese martial arts, but you will first practice peculiar body movements called "Kata" without an opponent in Iaido. Since it is not considered heavy exercise and you don't have to worry about getting injured, anyone can easily get started.
What is Iaido ?

What is Iaido ?

It is said that the birth of Iaido was during the Warring States period in Japan. It was learned as a technique by samurai to protect themselves in order to survive in battle.
Many people are also learning in modern times this movement of the body called "kata." It is utilized in other Japanese martial arts such as kendo and judo, and also applied to self-defense.

Anything is used as a weapon

Anything is used as a weapon

Samurai most often fought enemies with Japanese swords in battle, but it is said that they first practiced using a folding fan as a substitute for a sword.
In addition, there is also a tradition that Jubei Yagyu, who is one of the masters of swords in Japanese history, used a folding fan in actual battle.
The feature of Iaido is that you can use whatever you have around you as a weapon and adapt to any situation.
Recommend for people who...
Are interested in samurai or learning swords !

Are interested in Japanese martial arts but going for practice is difficult !

Would like to start something new !

Would like to learn Japanese culture while moving their body !
Iaido will help with...
Improving your posture

Strengthening your inner muscles

Improving your concentration

Refreshing yourself

Getting rid of lack of exercise

Course and Fee
Private Lesson

You can take a lesson at your convenient dates and time. This is a one-on-one lesson with the instructor so you can learn what you want while asking questions. This is recommend for someone who would like to learn Iaido in detail.

POINT

One-to-one, so you can ask what you don't know without hesitation!

You can even take a real practice lesson with an Iai sword!

※We will make a decision after considering safety issues such as the size of the room.

Fee

¥5,000

(tax in)

/1 hour

If you wish to take your lessons in English, an additional ¥3,000 will be charged as a support fee.

Group Lesson

You can take this lesson with your family, friends, etc. It would be a good opportunity to talk about with a friend who is living in remote place, as well as to learn Japanese culture with your children.

POINT

It's a great way to communicate with your friends and family!

With your reliable friends, you can enjoy the skill of the samurai casually!

Fee

2〜3persons ¥6,000

(tax in)

4〜6persons ¥8,000(tax in)

7〜10persons ¥10,000(tax in)

/1hour
10persons Contact us.

If you wish to take your lessons in English, an additional ¥3,000 will be charged as a support fee.
Instructor Introduction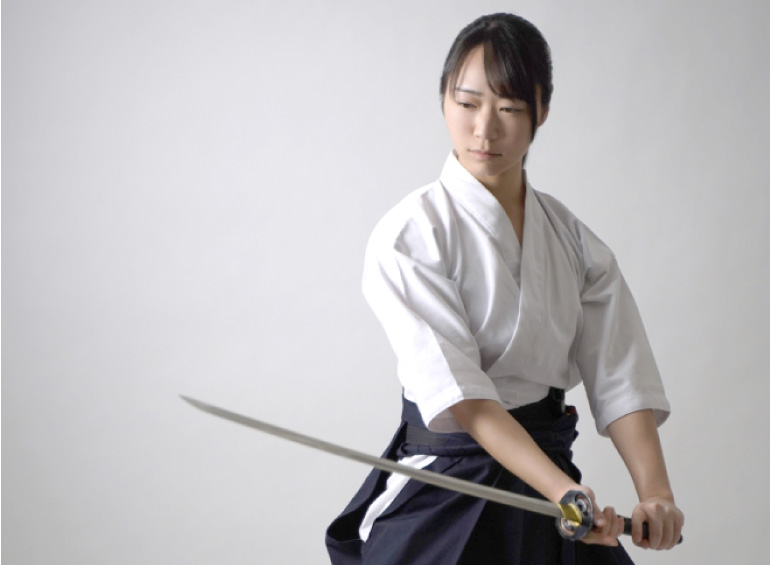 Shihomi Sueoka
Semi-Master of Shinkageryu Association
After graduating from university, she devoted herself to the martial arts and became an Semi-Master of the Shinkageryu Association at a young age. She has been concentrated her energy on spread the material arts,such as to be a model for the cover and demonstration of the book "Women's Iaido Program" published by PE&Sports Publishing.
Her appearance that tell you how to live as "a person you want to be" by learning the techniques handed down from the samurai era has been introduced in magazines and TV, and has caused a great sensation.
She has also given lessons to various athletes, actors, and models, and has gained the confidence of specialists in various fields.
Other Teachers


Comming Soon...
FAQ
I have no previous experience in martial arts.

In this lesson, you will learn Iaido according to procedure that starts with basic exercises such as calisthenics. You will also learn how to move the body peculiar to Iaido, as well as how to swing the folding fan. The instructor will explain each step in details so please don't mind even if you have never tried martial arts or you are not good at doing sports.
How you can I pay for the lesson fee ?

Payment by credit card is accepted.We accept Visa, MasterCard and Amex.
What do you need to prepare ?

Either your laptop, smart phone, or tablet device with ZOOM app and good internet connection is required for the lesson. Since the instructor wants to check your movement, during the lesson you will need to stand far you're your device enough so ZOOM projects your entire body clearly. Two square meters of space is enough for you to take this lesson.
What kinds of items do I need ?

Please have something that's 20 cm to 30cm and a stick-shaped item such as folding fans, folding umbrellas or a core of plastic wrap to swing as a sword during the lesson. The way to swing each item would be slightly different from each other, so please try using various items as you like and find your preferred one. We recommend that you choose something that you can hold firmly.
Do I have to prepare training clothes (Dogi) for Japanese martial arts?

Please take this lesson in comfortable clothes. If you have ever taken a lesson of another Japanese martial arts and have your own Dogi, you are of course welcome to join this lesson with wearing it! Dogi always makes you concentrated in the lesson of Japanese martial arts !
I have taken a Iaido lesson previously and have my own Japanese sword. Can I use it in this lesson?

For safety reasons, we are afraid that a Japanese sword is not allowed to be used in this lesson. However, if you are able to take our private lesson in a place spacious enough to swing your sword with no risk of hurting people around you, we would be happy to provide our lesson where you can use it. Please feel free to let me know if you would like further information regarding it.
I believe Japanese martial arts should be utilized by more and more people.
Learning Japanese martial arts does not immediately change something of you like you imagined before starting, however; you can surely get a sense of fulfillment in the way of learning it.

It would be a first step for learning Japanese martial arts and culture while enjoying taking this lesson at home!

I hope "IAIDO IN YOUR HOUSE" will help more people to live more actively and Japanese martial arts will spread to people all over the world.